Главная
»
2019
»
Февраль
»
7
» B&W Artisan Pro 1.3.0 for Photoshop
---
18:25
B&W Artisan Pro 1.3.0 for Photoshop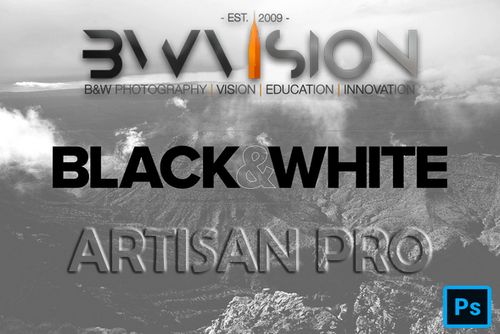 B&W Artisan Pro — это панель Photoshop, которая позволяет вам быстро и интуитивно создавать мастерские черно-белые фотографии с минимальными знаниями и опытом Photoshop. Для создания поразительных черно-белых изображений не нужны крутые кривые обучения и годы практики, для которых обычно требовались глубокие знания техники черно-белой обработки и Photoshop. Artisan Pro — это не панель «фильтр / эффекты», которая идет за счет креативности, а панель редактирования, которая освобождает, а не ограничивает креативность.

MAKING ADVANCED B&W EDITING EFFORTLESS AND INTUITIVE
1. One major obstacle in the creation of beautiful and sophisticated B&W photographs was that this was only possible with advanced PS knowledge or? B&W processing experience. Making this a technical process that took away from the artistic process. By 'hiding' the advanced technical steps under a preset in this panel, now also beginners in Photoshop can create technically advanced B&W photographs, while the artist still retains full artistic control over the image. Which is unlike 'full presets' or filters, that have an artistic effect.
2. Another problem in any type of photo editing is to make very precise local adjustments that blend in seamlessly with the rest of the image. This is often a time-consuming and technical process that takes away from the intuitive artistic process. This panel solves that problem by enabling the artist to quickly indicate the area that needs to be adjusted, carefree with a freeform selection, and then darken/lighten subtly with the click of a button. The panel ensures the local adjustment blends in smoothly and precisely with(in) the adjacent areas.

SMART ADJUSTMENT FEATURES FOR PRECISE LOCAL ADJUSTMENTS.
1. Advanced Local Adjustments: enable accurate and subtle local adjustments by carefree and form-free indicating with the lasso tool the target area to be adjusted and then clicking the darken/lighten preset. The change will be applied in a smart and seamless way while avoiding any abrupt transitions with adjacent areas. If you already have a pre-created mask, you can use these too with this new feature.
2. Micro-Zone Local Adjustment: the same as Advanced Smart Linear adjustment but now the local adjustments affect only a selected range of tonal values only, within the target area, by using advanced 16 bits customized asymmetrical masks that work behind the scenes (no knowledge of luminosity masks is ne?eded) for even more accurate and seamless tonal and contrast adjustments.

ADVANCED EDITING TECHNIQUES UNDER THE HOOD
B&W Artisan Pro consists of presets that trigger features, that aren't readily availa?ble in Photoshop. Each preset triggers a specific sequence of combined advanced PS features and also 'hidden' PS features, that sometimes consists of more than hun?dred different steps, in a way that reflects Joel Tjintjelaar's signature B&W processing style and techniques to render a non-destructive result. ?




Информация о программе:
Версия: 1.3.0
Язык интерфейса: Английский
Системные требования:
• PS CC 2015.5 и выше
• Mac OS и Windows
Лечение: не требуется
Размер файла: 14,53 МБ



Download B&W Artisan Pro 1.3.0 for Photoshop



Категория:
Плагины для Photoshop
|
Просмотров:
171
|
|
|